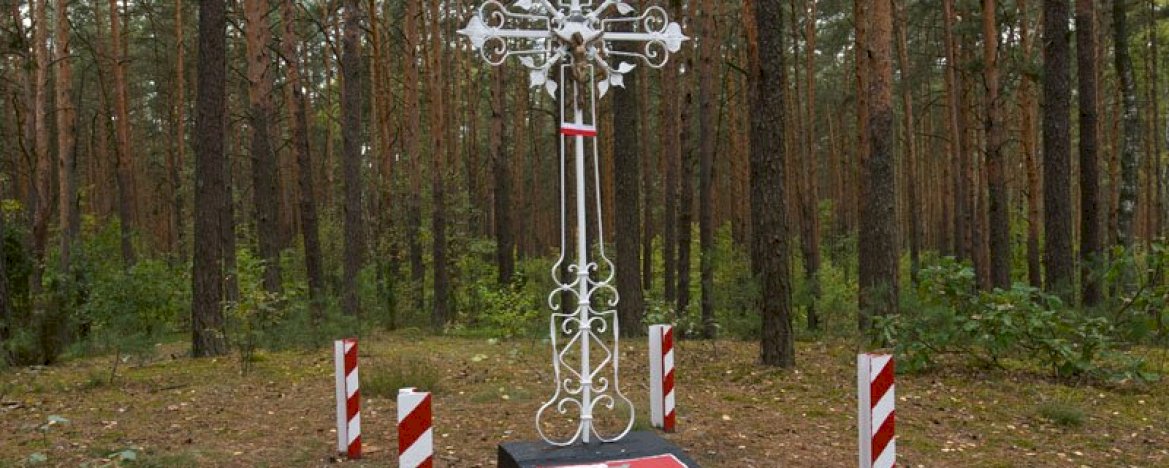 Chotomów Forest Massacre Site Chotomów – a hill in the woods
On the 22th February 1943, in Chotomów Forest, the following residents of Chotomów and Home Army soldiers were killed:
Leon Apczyński (29 yrs),
Ignacy Liwski (33 yrs),
Stanisław Mariański (23 yrs)
and Eugeniusz Wójcik (26 yrs).

The men went to the forest to fetch dried leaves and branches to kindle fire and disappeared without a trace. However, the community of Chotomów learned about the crime a full two weeks after their disappearance, only when an announcement was placed on the fence at Polskiej Organizacji Wojskowej (Polish Military Organization) Street. It was probably a local forestry worker who placed the announcement anonymously. As it turned out later, the horribly mutilated bodies were discovered deep in the forest, at the foot of the mountain near the path Droga Dąbrowska.

The murder, which horrified the residents of Chotomów was committed by the German soldiers and customs officers guarding the nearby border between the General Government and the Third Reich. After the exhumation, the bodies of the victims were entombed in the cemetery in Chotomów. A metal cross commemorates the site of the massacre, together with the memorial plaque unveiled on September 16, 1995, on the initiative of Jan Galiński, Józef Lemański and Wacław Piwnicki.
---