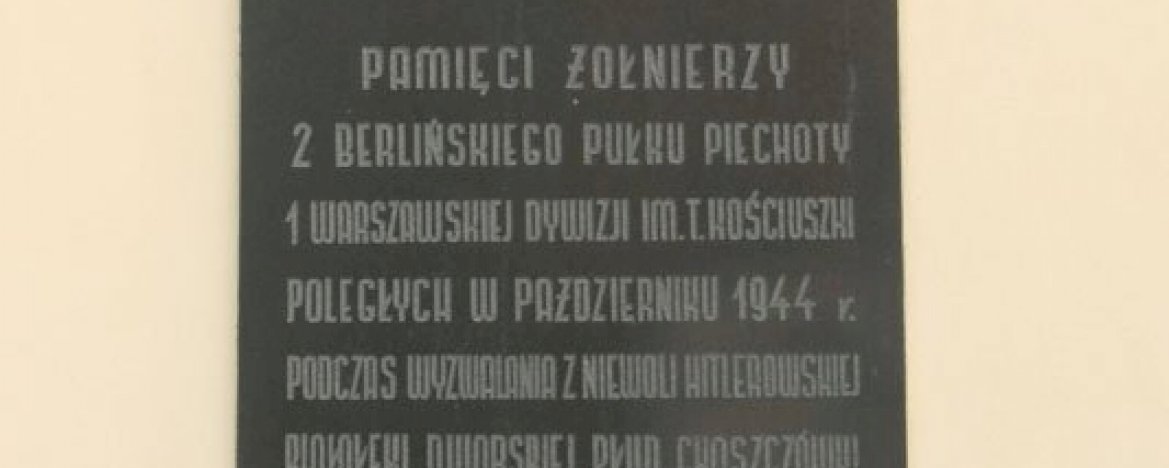 Commemorative plaques on the building of the Commune Office in Jabłonna - Modlińska 152 Str.
The Commune Office in Jabłonna is an interesting monument – a former hostelry, it was meticulously restored in 2008.

The building suffered severely during military operations in 1944. On October, 28 1944, military units of 47th Red Army and the Polish troops of the 2nd Infantry Regiment captured Jabłonna after heavy battles with the Nazi SS division 'Totenkopf'. These events were commemorated by the plaque, unveiled on the 20th anniversary of the battle, in 1964. Next to it, there is another memorial plaque commemorating the sojurn in the palace in Jabłonna, during the 1920 Polish-Soviet War, of the Chief of the General Staff of the Polish Armed Forces, Władysław Sikorski, who was commander of the Polish 5th Army.

It is worth mentioning that the building was constructed in the first half of the 19th century. In 1861, it housed an inn, a hostelry and a smithy. The hostelry was immortalized by the famous writer Wiktor Gomulicki in his short story entitled 'Chałat'. This interesting literary record from Jabłonna appeared in the small collection entitled 'From a single stream', published in 1905. In the interwar period the building housed a magistrates' court, a police station and the famous restaurant "Złoty Róg" ('The Golden Horn').
---